Allie Grant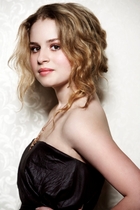 Date of Birth
14 December 1994, Tupelo, Mississippi, USA


Height
5' (1.52 m)


Mini Biography
At the age of 10, Allie and her mother left their native Mississippi to pursue Allie's inherent dream of becoming an actor. After arriving in Los Angeles, she began auditioning and soon found herself on the Showtime pilot "Weeds" as a guest star, little did she know she would later become a series regular. In the five seasons she spent on the show, the series was nominated for five Emmy Awards and three Golden Globes, all including Best Comedy. Allie and the cast were also nominated for the distinguished Best Cast Ensemble at the Screen Actor's Guild Awards in both 2007 and 2009.

In 2011, her ABC series "Suburgatory" debuted to enthusiastic viewers and critics alike, making it the highest rated series in six years for the network's time slot. Created by Emily Kapnek, (producer and writer of "Parks and Recreation") the show is a satirical exploration of the suburbs through the eyes of Manhattan natives Tessa and George (Jane Levy and Jeremy Sisto), a disillusioned teenage girl and her single father. As Tessa sinks deeper into the obscure little neighborhood, she meets Lisa Shay (Grant), her "explosively soft" neighbor. As they develop their friendship, they realize you don't have to be an outsider to feel displaced. The show also stars Cheryl Hines with "Saturday Night Live" alums Chris Parnell and Ana Gasteyer as Grant's parents. The series became a staple in TV's Wednesday night line up, becoming both a fan favorite and critic's pick, and ended its run in 2014.

From New York's Tribeca Film Festival to France's Festival de Cannes, Grant's "Struck by Lightning" (written by and starring Chris Colfer, alongside Alison Janney, Christina Hendricks, and Dermot Mulroney) caused quite the stir amongst distributors, and reunited Allie with her first director, Brian Dannelly. The movie was released in January of 2013 and was soon met with a cult following.

In 2015, Allie played a starring role in what is considered "one of the most shocking moments in television" that year, as fans said goodbye to their beloved Dr. McDreamy (Patrick Dempsey) in "Grey's Anatomy."

Later that year, she began guest starring on "The Goldbergs" as the fierce and overtly loving Evy Silver, who bares a striking resemblance both physically and in essence to Mrs. Goldberg (Wendi Mclendon-Covey), and becomes quickly entangled in the series' celebrated love triangle between Geoff Schwartz (Sam Lerner) and Erica Goldberg (Hayley Orranatia). Now with the series' hit spin off "Schooled," Allie continues Evy's journey, alongside the William Penn High School Staff (AJ Michalka, Tim Meadows & Brian Callen), as she navigates her way through the absurdities and chaos of adulthood.

Allie's work also expands into the theater, her first love, including the Los Angeles run of "How I Learned to Drive", and the production of her original piece "Who Sings to the Sparrow," inspired by the Elie Wiesel memoir "Night", which she also directed and starred.

Now twenty-six and living in New York City, Allie's most recent series "All Night," is currently streaming on Hulu. The anthology series examines a group of high school seniors throughout the course of one night; as they navigate their way through their grad night celebration party, we witness their emotional personal journeys of discoveries and transformation. Starring alongside Kate Flannery ("The Office"), Ty Doran ("American Crime"), and Tequan Richmond ("Ray").

Allie is currently writing and developing her own television series set in Mississippi in which she will also produce, direct and star in.