Miles Meadows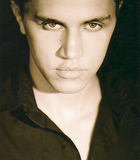 Mini Biography
Miles Meadows landed his first theatrical lead at age five and since then he has successfully established himself as an industry professional.Working on films in Vancouver, Los Angeles and France and performing in Italian,English, Russian, Portuguese, Latin and French.

Some of his more recognizable roles include guest staring on Smallville as "Doug", a political fanatic whose obsession with Lex Luthor directly contributes to the death of Clark Kent's father, his comedic smart mouthed appearances on 'The L Word' or his dramatic guest star on the highest rated episode of the widely acclaimed series 'Jeremiah'. Miles is also recognized as the heartless bully in NBC's remake of 'Carrie' and the pensive lead in the UK released 'Home Room', an incredibly poignant film based on the Columbine killings. Recently he's appeared as different versions of God in 'Looking For Johnny Chang' and 'The Strange Case of DJ Cosmic'.

Also trained vocally, Miles spent part of his youth touring with a jazz group named after Jim Henson's Muppet Group "Electric Mayhem". He also performed a solo in Aspen with John Denver when he was a child. Additionally Miles trained with a choreographer for 'Cirque du Soleil' for over a year and appeared as one of eight zero gravity dancers in Bravo Television's 'Eterne Sangui'.