Baljodh Nagra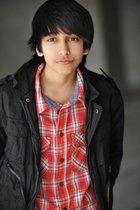 Mini Biography
Born in Vancouver, BC, Canada, Bal's interest in acting began at a young age. Enjoying shows like The Suite Life of Zach and Cody, he could see how much fun the actors were having being both creative and entertaining, two of his favorite things, and this inspired him to seek out the world of acting.

He enrolled in classes at a reputable film school and began auditioning for student films and commercials. After signing on with an agent, he booked his first feature film, Best Player. From there he went on to guest star in television series such as The Hub's, The Haunting Hour and the SyFy series, Sanctuary.

Bal continues to hone his skills as an actor by joining workshops and acting classes, keeping him at the top of his game. He possesses a unique blend of confidence, sensitivity and emotion allowing him to connect with his characters on more serious roles, yet also keep incredible sense of comedic timing for the funny roles.

His passion for acting and his unique combination of seriousness, sensitivity and humor has proven successful as is shown from his nomination and win at the 33rd Young Artist Awards for Best Performance in a TV series for his role in The Haunting Hour.